BGmolt Spanish
Original page: http://www.bio.umass.edu/biology/kunkel/bgmolt.html
La vida corta de una cucaracha 'albina'
Fotos por Joe Kunkel, como parte de una investigación independiente como estudiante de licenciatura, 1964. Esta investigación contribuyó a su primer documento publicado (Kunkel, 1966). Aquí, vemos una larva instar V Blattella germanica, mudándose para convertirse en una hembra ninfal instar VI.
Durante ecdisis (cuando un artrópodo se deshace de su cutícula vieja), la nueva cutícula de la cucaracha es de un blanco cremoso. Esto ha resultado en muchas afirmaciones, por parte de novatos, de haber descubierto una cucaracha albina. Pero el proceso de ecdisis, que dura una hora, termina con el bronceado (oscurecimiento y endurecimiento) de la nueva cutícula y, lamentablemente, la 'extinción' de la cucaracha 'albina'.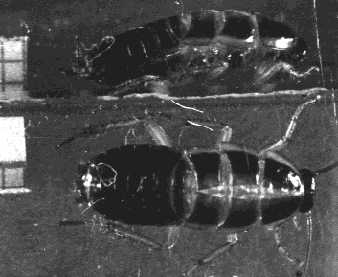 Ecdisis de Blattella germanica + 0 min. (con reflexión en el espejo).
¡La cutícula pronotal acaba de partirse bajo la presión hidrostática de aire ingerido!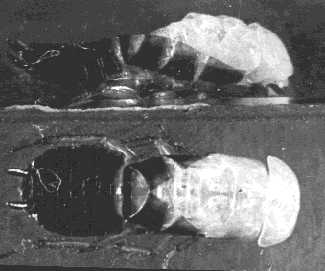 Ecdisis + 1 min.
La larva continúa ingiriendo aire para expandirse, y así salir de la cutícula vieja.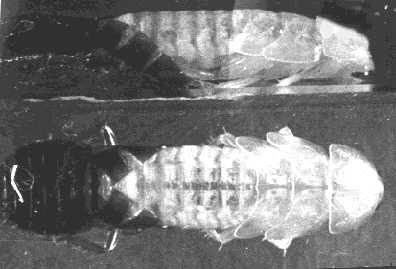 Ecdisis + 3 min.
Saca las patas y las antenas de sus fundas cuticulares antiguas.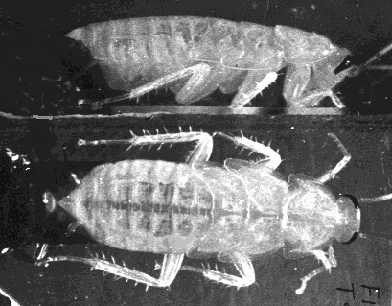 Ecdisis + 8 min.
Por primera vez, las patas y las antenas están libres. Continúa la inflación.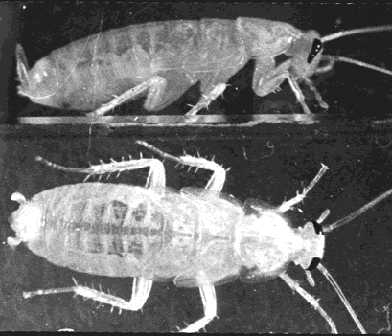 Ecdisis + 10 min.
La larva, recientemente mudada de piel, llega a su nuevo tamaño máximo. Se endurece provisionalmente, en este tamaño.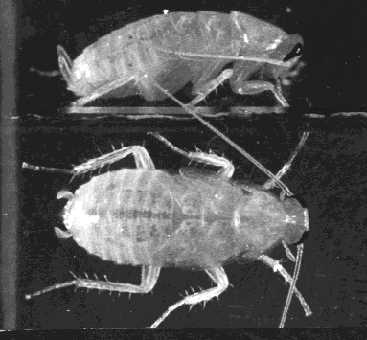 Ecdisis + 17,5 min.
El proceso de deflación está en marcha. La larva regurgita el aire ingerido, y se vuelve más plana.
Ecdisis + 19,5 min.
Ahora ya casi terminó la deflación.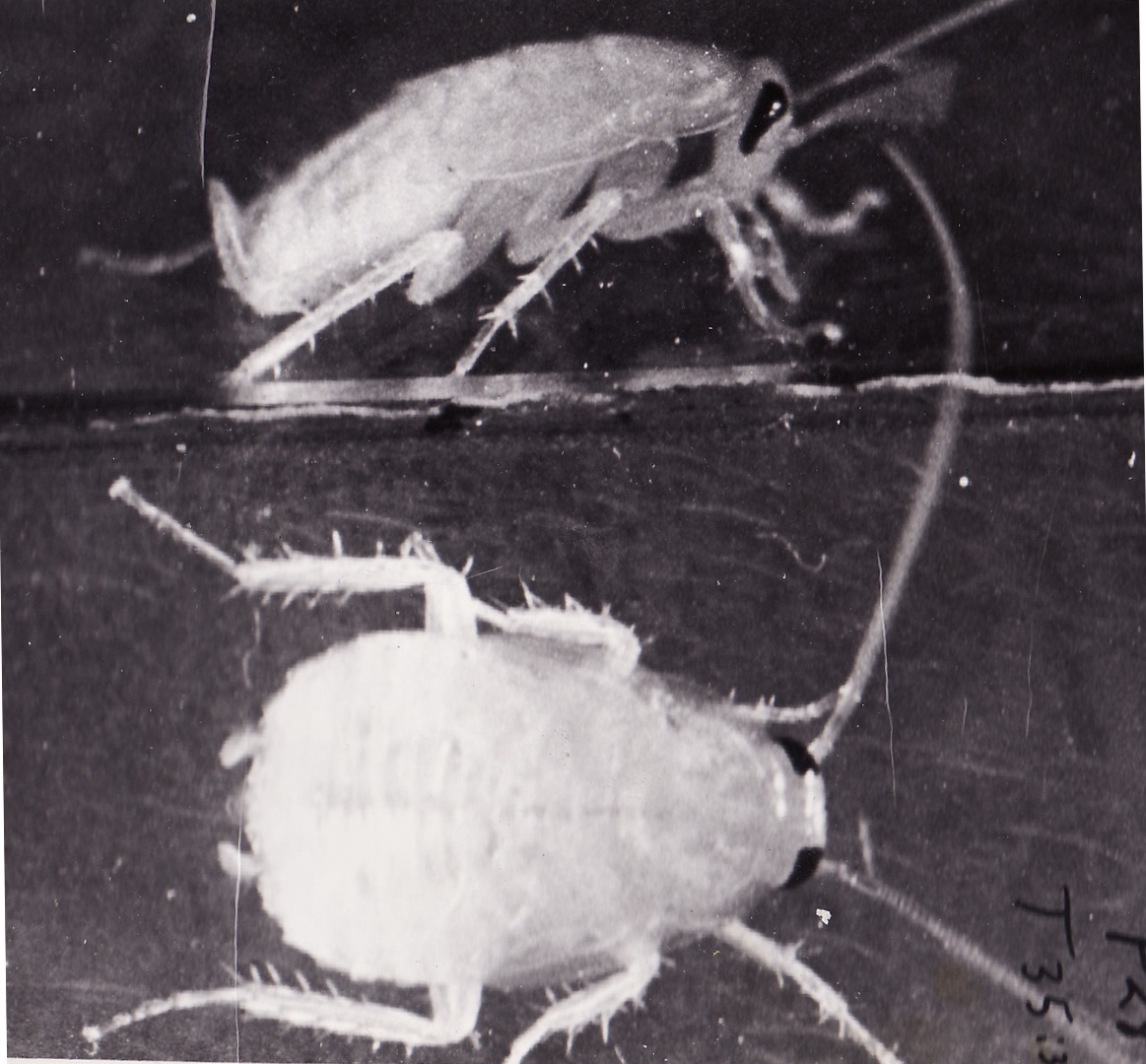 Ecdisis + 35,5 min.
Ahora bastante plana, la larva procederá a endurar y a oscurecer visiblemente esta cutícula, comenzando 1 hora después de que se parta inicialmente su cutícula pronotal. En cuatro horas, ya dejará de seguir oscureciendo, y puede comenzar a comer para llenar el espacio recientemente provisto con tejidos en crecimiento.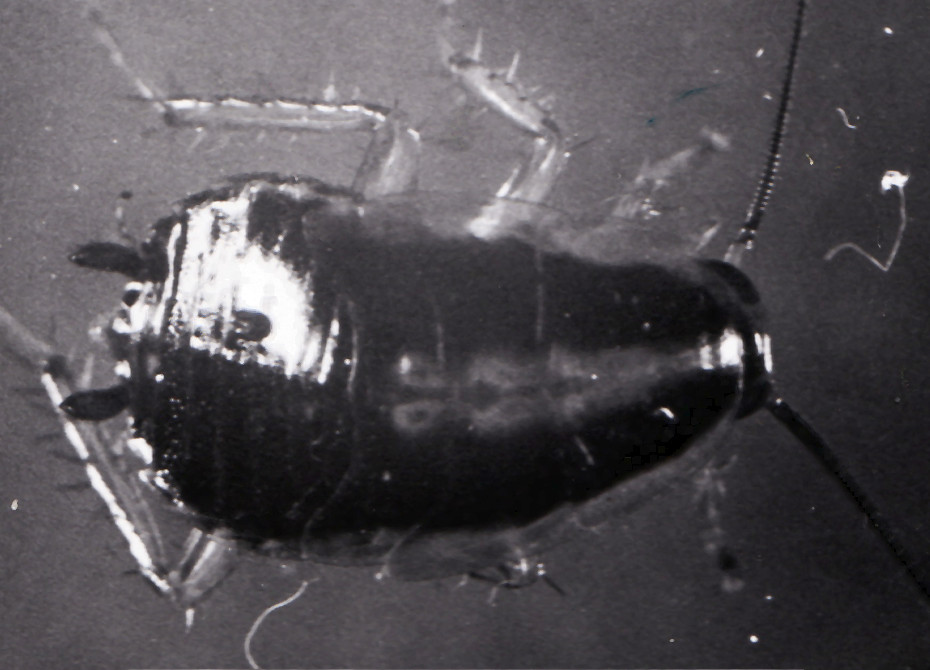 Ecdisis + 11 hrs.
Ahora, durante la noche, la hembra ninfal VI ya dejará de oscurecerse, y aún no ha comenzado a comer para llenar el nuevo espacio de tejidos.
Esta hembra instar VI, endurecida y oscurecida, se puede almacenar a 15 °C durante hasta un mes, y luego se la puede hacer iniciar su cambio de piel metamórfico para convertirse en una hembra adulta, dejándola a 30 °C, con comida (Kunkel, 1966).
Volver a: | Página principal de Kunkel | Departamento de biología.| Página principal de UMass |
John has worked in investment banking for 10 years and is the main author at 7 Binary Options. He holds a Master's degree in Economics.
Latest posts by John Miller (see all)